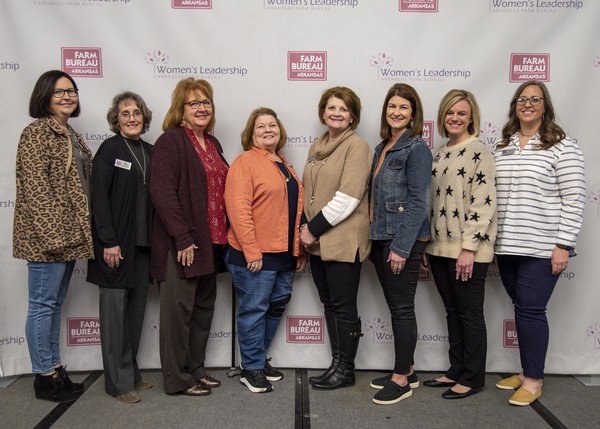 2023 State Women's Leadership Committee

Chair - Kerry Stiles, Lee County
Vice Chair - Nita Cooper, Boone County
District 1 - Melissa Donner, Mississippi County
District 2 - Hannah Gray, Greene County
District 3 - Julie Campbell, Newton County
District 4 - Beth Ullrich, North Logan County
District 5 - Erin Hill, Perry County
District 6 - Sara Beth Johnson, Lonoke County
District 7 - Cole Jackson, Ouachita County

---
Resources:
2022-23 Women's Leadership Awards questions.
2023 Women's Leadership Planning Calendar
Blank 2023 Women's Leadership Planning Calendar
---
Health and Wellness Education Program:

This program is sponsored by the ArFB State Women's Leadership and Young Farmers & Ranchers Committees. The program is designed to encourage counties to support health and wellness programs in their communities. Eligible programs include, but are not limited to Backpack Program, Food Bank/Pantry donations and donations to local schools or organizations. Monetary and food/item donations are eligible for reimbursement. ArFB will reimburse up to $400 per county each year (Nov. 1 - Oct. 31)
Please submit a copy of the check or receipt(s) to Lori Croy at lori.croy@arfb.com
---
The Women's Leadership Committee is a vital part of the county and state Farm Bureau organizations, as they plan and implement programs and activities that are an important part of Farm Bureau's mission. They conduct community-based activities and programs involving Ag in the Classroom, farm tours, commodity promotion, safety, health and agricultural policy.