2023 Winter Commodity Division Meetings - POSTPONED

Time is rapidly approaching for our winter commodity division meetings. At this year's meeting we are excited to announce the addition of a Small Ruminant Division. Last December, the Farm Bureau state board voted and agreed to add the new division. I hope you will ensure that your county Farm Bureau is represented at these very important meetings.
Please note this year's meeting will be held at the Wyndham Riverfront Hotel, 2 Riverfront Place, North Little Rock. The format will be similar to previous division meetings with half of the divisions meeting in the morning and the remaining meetings in the afternoon. The schedule will be as follows: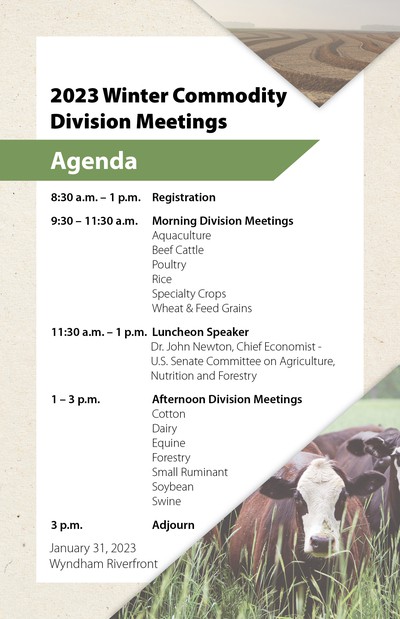 The purpose of the winter commodity division meetings is to review Farm Bureau policy, both existing and those which have just been adopted at annual convention, make recommendations to the state board of directors, and establish division priorities for the year. Actions taken at these meetings will guide our farm bureau staff and commodity divisions work on commodity issues during the coming year. Because of this, it is important for your county to be represented in commodity division sessions in which your county has a commodity interest. Please encourage your division chairmen to attend and actively participate. If a county chairman cannot attend, you may designate a substitute who has a vested economic interest in the commodity they are representing to fill their place.
Division Meeting Agendas

Specialty Crops Division Agenda
To learn more about the Arkansas Division Chairs, click here.