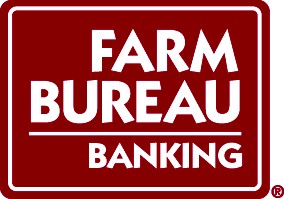 Secure access to your money – anytime and from anywhere.
Members can save big utilizing the services offered through an exclusive program with nationally recognized Farm Bureau Bank! Some of the benefits and savings for members include:
Vehicle loans
Take advantage of member-special pricing when you finance or refinance new or used vehicles, including trucks, trailers, motorcycles, boats, RVs, Jet Skis, and all-terrain vehicles.
Consumer credit cards
Enjoy Membership Dues Reimbursement, reward points, and low rates with the Farm Bureau Member Rewards Mastercard®.

Deposit services
Deposit your money safely with a Farm Bureau Bank Performance Checking, Money Market, Certificate of Deposits (CD), Individual Retirement Account (IRA), or Health Savings Account (HSA), all FDIC insured.
Business services
Enjoy our Premier Business Visa® card with a special introductory offer and a robust reward program along with a Business Checking account. If you're in need of equipment, ask us about an equipment loan!
Equipment Loans
Farm Bureau Bank offers financing and refinancing for new and used equipment with competitive rates and flexible payment plans.
Mortgage Loans
Take advantage of a dedicated team and loan options specifically for Arkansas Farm Bureau members!
Go ahead. See what better banking is all about.
Contact your local Farm Bureau Agent for more details, or call 1-800-492-3276 to speak to a Personal Banker today!
Ginger Parks
State Sales Representative - Arkansas
Office Phone: 210-637-4850
gparks@farmbureaubank.com
See terms & conditions at www.farmbureaubank.com. Banking services provided by Farm Bureau Bank, FSB. Farm Bureau, FB, and the FB National Logo are registered service marks owned by, and used by Farm Bureau Bank FSB under license from, the American Farm Bureau Federation.