Arkansas Farm Bureau Federation Policy: We support establishing a state meat and poultry inspection program for the retail sale of meat. (Livestock & Poultry Commission, 138)
Background
As the demand for locally grown food continues to trend upward, more and more Arkansas livestock producers sell meat and meat products directly to consumers – privately via direct sales, through farmers' markets, etc. Arkansas no longer administers a state meat and poultry inspection program, meaning the USDA has assumed the inspection function at processing plants. Custom slaughterhouses can only sell meat directly back to the producer/individual who brought the animal to the facility; product from these facilities cannot legally enter commerce. Currently, there are only three processing facilities in the state that take non-poultry livestock (cattle, sheep, lambs, hogs, etc.) from the public to be harvested; these facilities each have a USDA inspector.
State Inspection and Cooperative Agreements
Twenty-seven states have established meat and poultry inspection programs for products produced and sold within their jurisdictions. These state Meat, Poultry & Egg Products Inspection (MPI) programs operate under a cooperative agreement with USDA's Food Safety and Inspection Service (FSIS).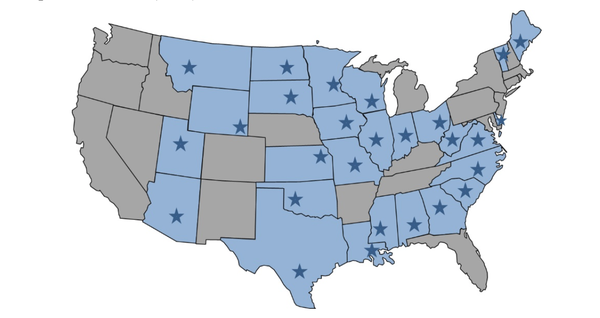 Under the cooperative agreement, a state's program must enforce requirements "at least equal to" those imposed under the Federal Meat Inspection Act and the Poultry Products Inspection Act. In states with inspection programs, establishments have the option to apply for Federal or state inspection. However, product produced under state inspection is limited to intrastate commerce – product cannot cross the state line. Under the cooperative agreements, FSIS provides up to 50 percent of the state's operating funds, as well as training and other assistance.
Classification of Processing Plants
State plants are facilities under state inspection and are inspected daily. Products from these establishments are labeled "Inspected and passed by ___________ Department of Agriculture" and bear a state inspection legend. These products can be sold anywhere within the state where the product was slaughtered and inspected. This is known as intrastate inspection.
Custom plants are facilities that slaughter and/or process product for private individuals only. They are not inspected and all products must be returned to the original owner and cannot be sold.
TA plants are USDA inspected facilities that are staffed by USDA inspectors who are state employees. Meat products produced in these plants are "Inspected and Passed by USDA." Products bear a round USDA Inspection Legend and may be shipped anywhere in the United States or exported to foreign countries. This is known as interstate inspection.
Requirements for Processing Facilities under a State Inspection Program
Being registered with the state and/or federal government
Approved by a state health department
Potable water testing
An approved sanitary slaughter and separate inspection area
Meet and uphold humane animal welfare guidelines
An approved HACCP (Hazard Analysis Critical Control Point) and SSOP (Sanitation Standard
Operating Procedure) program
Keep and maintain records
A proper cooler capable of maintaining proper temperatures
Disposition of inedible products
Labeling and nutritional information
Additional Resources: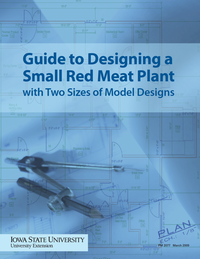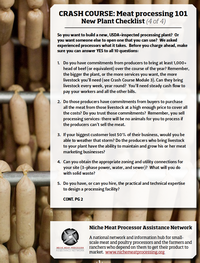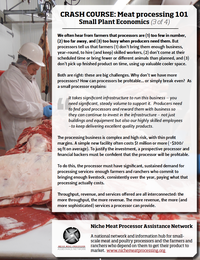 AMS Consumer Food Preference Presentation
Nielsen Study, "What Food-Related Causes do Consumers Care about today?"
Arkansas Food Map to Include Farmers' Markets and Local Farms
How to Write a HACCP Plan (Oregon State)
USDA FSIS State Inspection and Cooperative Agreements
The National Ag Law Center – Meat Processing Laws in the United States