Poultry Supply Chain Updates
Arkansas Poultry Industry Faces Uncertainty
Before the outbreak of COVID-19 more than half of food consumption in the U.S. was done away from home. As a result, there are a number of poultry plants in Arkansas that harvest chickens for a particular food service provider. The packaging and products used in the food service industry is usually significantly different than in grocery outlets.
The abrupt changes in the supply chain are impacting poultry growers both in Arkansas and across the nation. In general, growers connected most closely to the food service side seem to have been the most severely impacted by COVID-19.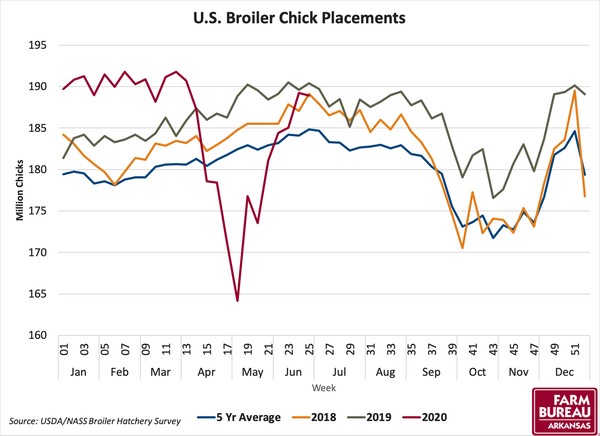 Broiler Chick placements are baby chicks that are placed on farms during the week.
Prior to the COVID-19 outbreak over 190 million chicks were being placed on farms each week

By mid-May weekly placements had declined more than 23 million chicks (12.5%) from Jan/Feb average.

Weak placements impact poultry growers by causing them have longer between flocks

Typically, growers will have 21 days between flocks, today some have been told it will be 60-days before chicks are placed.

While sales in grocery stores are stronger, food service sales remain at historically low levels.